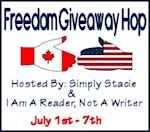 Have you ever bought a book based solely on the cover?
What makes a GREAT cover?
These are some of my favorites.
Pick ONE you have not read based

ONLY

on the cover. This should be fun. Let's see who wins.
I have found that some of the most BEAUTIFUL covers are in YA.
Please visit my YA Blog
RULES
Must be a FOLLOWER (add your follower name)

Tweet: #ENTER to #WIN Freedom Giveaway Blog Hop (Judge a book by its COVER) http://bit.ly/hotbooks @jowannnjk

Find me on Facebook (not a requirement) for mancandy Pimpin' Reads

EXTRA: Follow my YA page and I will put your name in the drawing +5

You MUST leave your email addy in the comment below so that I can find you. Thanks
Please note this is an international contest...however, I buy my books through the Book Depository. Please check to see if they ship to your area. I am not responsible for lost mail. I will give you the confirmation number of your order.